So, you have just bought your new mattress and spent a lot of money, but "you're not fully satisfied".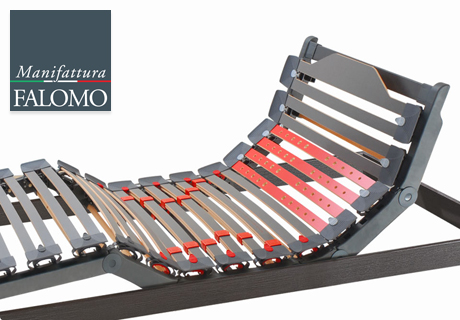 This recurring problem is almost always the result of a mismatch between the mattress and the bed base.
But how to choose the right bed base for your mattress?
Follow now these 5 simple tips and buy with confidence your new bed base!
1) Bed Base With Shock Absorber Or Not?
In the market of bed bases there is a large subdivision:
Bed bases with shock absorber: we find at the end of each slat an oscillating shock absorber which is responsible for supporting and cushioning the movement of your mattress and consequently your movement;
Bed bases without shock absorber: they differ because the shock absorber are not oscillating but the elasticity is given only by the curved slats, usually made of beechwood.
2) Adjustable Bed Base Or Not?
Remember that there are adjustable or not adjustable bed base: those whit the movement, besides being more comfortable in case you want to watch the TV or read a book, allow you to take e advantage by the reclining of the bed to help getting up, very welcome feature among the "not longer young people".
Remember that the adjustable bed bases can be divided into 2 types:
manual adjustable bed bases;
electric adjustable bed bases: in this case the bed base has a remote control (with or without wire) through which it's possible to control an electric motor, most often hidden inside the structure of the bed base.
3) When NOT To Buy a Reclined Bed Base?
In case you have purchased a traditional spring mattress (e.g. with Bonnel system), our advice is not to combine it with a reclined bed base because you may compromise your sleep, "bending" the mattress and so compromising its ergonomic performance.
4) The Right Height: 65-70 cm
The right hight from the ground is a very important factor especially if you suffer dust allergy. The ideal height from sleeping is about 65-70 cm, so evaluates the thickness of your mattress and consequently you'll know how high it will be your new bed base.
Consider also that mattress height of 65-70 cm allow you to have 2 more advantages:
the bed base is also more practical for cleaning;
It will be less tiring and easier to get up of bed when you wake up.
5) A Few More Minutes For a Priceless Benefit.
Well, now that you look at your new bed base with a "more technical eye", remember to take your time in the store to test different Bed bases. It's an investment of a few minutes that allows you to ensure many years of comfortable sleep.