Manifattura Falomo, in collaboration with Innergetic, sponsors the Thinkoff Saxo Team from May 9th to May 31st during the 98° edition of "Giro d'Italia", one of the most important bike competition of the World!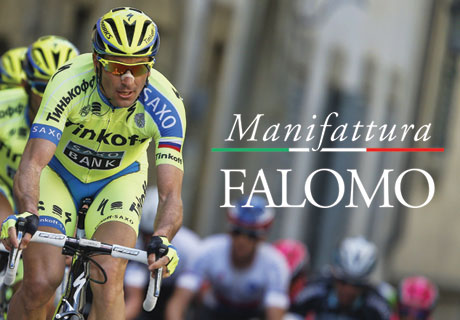 Find out in this article how Manifattura Falomo will take care of the "healthy sleep" of Thinkoff Saxo team cyclists!
Thinkoff Saxo Team Will Sleep on Manifattura Falomo Mattresses
Every cyclist of Thinkoff Saxo team will sleep on Manifattura Falomo mattress, during the 21 stages of "Giro d'Italia 2015".
An Healthy and Regenerating Sleep to Get Up Really Well!
The Manifattura Falomo Innergetic Matresses will be settled by the "healthy sleep team" in the hotel rooms where the team will stay during the competition.
Sleep Like a Champion With Manifattura Falomo's Mattresses!
Follow us on Facebook, Twitter and Google+ and do not miss the "Giro d'Italia" Bike Competition. Manifattura Falomo and Thinkoff Saxo Team are waiting for you to share the emotions of the race!
This year the famous TV channel SKY BIKE CHANNEL will make a special report focused on the "healthy sleep" event sponsored by Manifattura Falomo.
Sleep like a champion! Find out now the mattresses retailer closest to you! 
Stay tuned!