Aquatech is an innovative foam obtained by the mixing of polymers and water: Only the best quality mattresses are made of Aquatech!
Thanks to the water used in its production, the core of the Aquatech mattresses will act like a natural sponge, millions of tiny holes where air passes throughout and humidity is  drained away. Learn more about the extraordinary qualities of this material and choose your next mattress!
The innovation Is Here! Progressive Load-Bearing
Thanks to your new Aquatech mattress, your shoulders, your pelvis area, and your legs will be gradually accommodating.
In this way your body will always be well supported!
 Which Are the Most Important Technical Datas of an Aquatech Mattress?
1. Density
The density of an Aquatech mattress's core expresses the quantity of material presents in a cubic meter: The higher the density, the greater the durability of the mattress,  and the higher your comfort. For this reason a high quality foam has a value greater than 60 Kg/m cube.
2. Load Bearing
During the construction of a mattress, the load-bearing capacity expresses the different values of stiffness at equal density of the material of which is composed the core. In fact a too soft mattress would not adequately support your body, on the contrary a too stiff mattress will be inconvenient. For this reason the body weight of a person is a determining element in order to choice the perfect mattress: Everyone needs a different bearing capacity.
3. Height
The core's height is another important characteristic when customizing your bed system: Higher cores (never less than 18 cm) are ideal for heavier people.
4. The Design of the Core
Ergonomic researches have proved that a mattress needs 7 different support's areas: For this reason the core made of Aquatech are shaped to obtain different level of supports and comfort.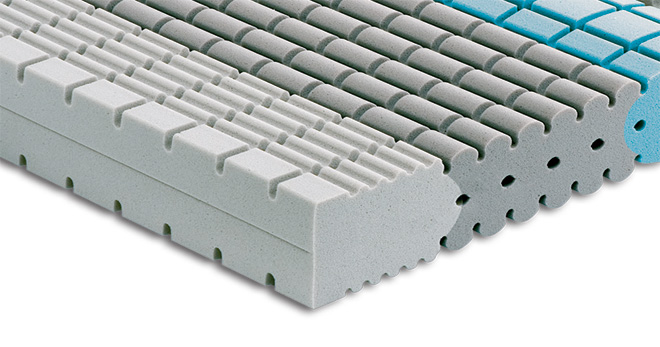 What Are You Waiting For?
Find out now the mattresses retailer closest to you and try an Aquatech mattress!