Mattress toppers are increasingly popular accessories for those who desire an even softer and cozier bed, just like the ones we usually find in luxury hotels. This particular pad, rolled onto the mattress, allows us to upgrade our sleeping experience, making it unique and tailored to our needs.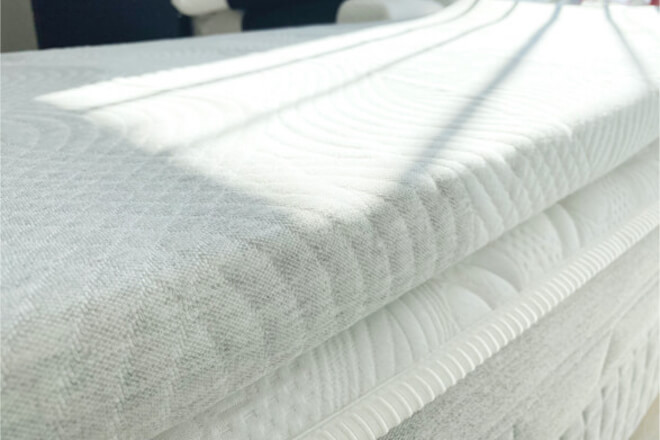 But what are the real benefits of using mattress toppers? Are they really suitable for everyone? Read on to find out!
Why use a topper?
Toppers can be used in many ways, and these are just some of the benefits!
Using a topper allows you to optimize or "correct" any peculiarities of the underlying mattress. For example, a firm mattress can become pleasantly cozy by simply adding a soft soy memory topper.
The protection given by a topper allows our mattress to last longer over time as dust, wear, and tear are significantly reduced.
Enjoy maximum comfort even away from home: to make sure you get the best rest even during travel, you can store the topper in its bag and take it with you! Therefore, adapting to different bed systems becomes so much easier.


A double-size topper can be positioned onto 2 single-size mattresses to eliminate the uncomfortable separation in the middle of the bed. In addition, if you have 2 single-size mattresses of different stiffnesses, a double topper combines different sleeping needs into one bed.
Toppers come with a removable and machine-washable outer cover. Your sleeping environment will always be excellent!
It can be a temporary solution or your faithful ally throughout the year! Depending on your needs, you can use a topper to upgrade your mattress all year round or for short periods, such as during the winter when we look forward to a more enveloping bed.
How to choose a topper?
The thickness of the topper typically ranges from 3 cm to 7 cm, but the choice of the height depends on one's sleeping needs. Toppers work great on any mattress by optimizing comfort to the desired level.
Some examples of uses? Single or double toppers can help you achieve a cozier mattress:
Praticò Topper
A thinner topper, such as the Praticò mattress topper, reduces compression between the mattress and body without altering the mattress's support. With a layer of only 3 cm and a comfortable side band, it adheres perfectly to the mattress and ensures maximum hygiene.
Comfort Topper
Its 4-5 centimetre thickness is suitable for those who want to add a cozier layer to their mattress to ease overnight movements. Our Soy Memory Comfort Topper gently adapts to body pressures without compressing the spine. Breathable, non-slip linings are essential to enhance the feeling of well-being!
Topper Sport
Thicker toppers, such as our Topper Sport, promote muscle relaxation and blood circulation during sleep. With a 6-centimetre thickness, they are particularly suitable during recovery phases after sports competitions and intense training. The non-slip bottom and corner elastics allow maximum stability and adherence to the mattress underneath.
Pillow top mattresses: the comfort of a topper all year round!
For those looking for a plush and cozy mattress, pillow top mattresses can be a great alternative to adding a topper. This type of mattress provides the extra softness of the topper during all seasons but in one solution with maximum comfort.
The extra padded layer can be customized in different materials. In the case of our pillow top mattresses, there are 4 available fillings to meet every resting requirement and physical feature:
Memory mattress topper
The inner pad is made of Soy Memory Touch, a foam that gently and gradually adapts to body pressure while providing proper support.
Gel mattress topper
The Physioclima® Gel version offers optimal temperature regulation and a feeling of softness and elasticity.
Feel HD mattress topper
Incredibly elastic, it ensures total freedom of movement during sleep. This hydrophilic material provides moisture absorption for a dry microclimate at all times.
Latex mattress topper
The latex version uses an innovative foam, incredibly natural and breathable.
Choose the right mattress topper for you!
Upgrade your sleep experience with your next mattress topper! Single or double, latex or memory, we're sure you'll discover a new, pleasurable way to sleep.
Visit our website or contact us to discover our toppers and pillow-top mattresses, handcrafted in Italy and designed to enhance your rest. You will find safe, certified, and excellent-quality raw materials!