If you usually take a shower at morning instead of at night before bedtime, we strongly recommend you to read this article and find out the 5 reasons because you should change this bad habit.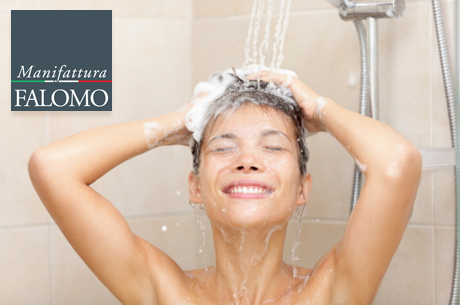 Taking a shower in the evening is better: Here are the 5 reasons that prove it.
1. Save time in the morning!
This means more time for sleep during the night and so more time in the morning for breakfast. Also, how many times do you have to wait your turn before using the bathroom upon awaking? This is a recurring situation with a large family, and the fact of saving time in the morning, makes you go to sleep with one thought less.
2. Prevent pollen allergies!
If you spend most of your time outdoors, the pollen tends to collect on your hair and on your skin: if you don't get a shower before going to sleep, you'll risk of carrying on your hypoallergenic pillow the agent that trigger the allergic crisis. The same is true for your hypoallergenic mattress.
3. A hot shower sakes it easier to fall asleep!
Take a warm bath, a sauna (if you have one at home!) or a hot shower before going to sleep.
When we fall asleep our body temperature goes down. In a hot shower your body temperature rises and just out of the bathroom, the sudden drop in temperature, helps you to fall asleep: "It tells you body" that is time to sleep. We suggest you to try this method of a hot bath before going to sleep especially if you suffer from insomnia.
4. Save on energy bills! Really?
Given that you'll go to bed always clean, you wash less your sheets and so you'll save on energy on the long term. Moreover, during the evening the water, the gas and the electricity cost less then during the day, so you'll also save on water, electricity and gas supply!
5. Avoid a sore throat!
How many times have you ever leave home with wet hair? This is the typical situation where you can catch a "chill", that may cause bothersome sore throat, back strain and neck pain.
Don't forget about the mattress!
So? If after reading these tips to improve your sleep, you think that your mattress is no longer able to provide an adequate sleep, find out now the mattress dealer closest to you and improve your sleep starting from tonight!