"O bed! O bed! Delicious bed! That heaven upon earth to the weary head", wrote Thomas Hood in 'Miss Kilmansegg - Her Dream'. The bed is a prized piece of furniture worthy of sonnets and odes of love. We cherish the bed and the repose it brings. We revere the bed, giving it a place of honor in the bedroom.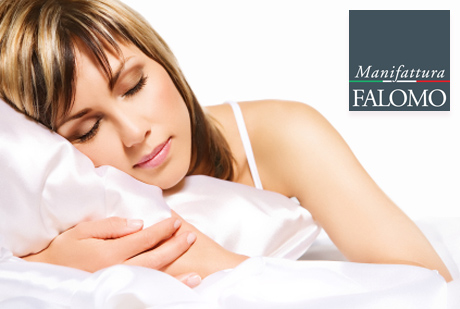 Yet we hate the bed. It and the sleep it demands take precious hours we do not have out of already over scheduled lives. Then, we wake up unrefreshed and angry at the precious hours sacrificed for naught.
The Falomo family of Northern Italy though, wisely knows that it is not the bed that is to blame, but the ill-crafted and shoddy mattress that causes achy bodies and sleepless nights. The Falomos' appreciation of sleep runs so deep that they have dedicated their lives to their business, Manifattura Falomo (Falomo Manufacturing), developing superior mattresses that foster and enhance sleep, making for restful nights and sweeter dreams.
Turning wasted night-time hours into rejuvenating sleep is inherent in the Falomo family genes. For 3 generations, the Falomos' have been committed to making the most of the mattress and the slumber it provides. The family-run business began in 1972, when Ezio Falomo opened the Manifattura Falomo doors after observing his father's commitment to mattress making for a different mattress company. "We have since grown into a mid-sized company of about 100 employees and 25 freelance agents", says Carlo Falomo, Manifattura Falomo commercial director and Ezio's son.
A company cannot achieve such strong numbers without effort and constantly reinventing the status quo. Manifattura Falomo has developed various mattresses lines using a combination of foam and spring constructions to meet customers' different firmness and comfort needs. "We have two patents: One for PhysioClima, a viscoelastic foam mattress that ensures humidity and thermal insulation in all seasons, and the second patent is for Kuschelmed, an aquatech-based mattress designed to ease back pain caused by excessive weight", explains Mr. Falomo.
Achieving a satisfying night's sleep requires more than the perfect mattress. Therefore, the Falomo family also designs multiple lines of latex and memory pillows and bed bases made from aluminium, wood or metal. The bed bases provide shock absorption and sturdiness with no creaks or squeaks as the sleeper moves about the mattress.
Manifattura Falomo treats the wood bed bases with natural waxes, produced in the most environmentally sound process possible. Manifattura Falomo's commitment to sleep through innovative, top-grade mattresses and bed accessories has earned the company a reputation for being a merchandiser to be trusted.
"The quality of our product is always paramount and all products are 100% made in Italy. In the end, our goal is to supply a way for customers to attain healthy sleep each time they lay down. This is very important because humans spend on average, a third of their lives in bed", states Mr. Falomo.
The bulk of Manifattura Falomo's business, almost 90%, comes from furniture and bed retailers, with German chain stores being some of the biggest clients. The remaining 10% of customers are original equipment manufacturers (OEM) representing bed producers. The Italian market enjoys the Falomo sleep aids the most, representing 70% of the company's total sales. Exports make up the rest of the business with the largest customer outside of Italy being Germany followed by Slovenia, Austria and Switzerland.
"Outside of Europe, Asia is a very important target market, in particular, Korea, Taiwan and Japan. As we set goals for the future, we want to increase our exports to these and other world regions. Not overnight, just one step at a time" explains Mr. Falomo.
"The bed is a bundle of paradoxes: We go to it with reluctance, yet we quit it with regret; we make up our minds every night to leave it early, but we make up our bodies every morning to keep it late", wrote Charles Caleb Colton.
Whether customers sleep little or late, making sure that the sleep is revitalizing and comfortable is a Manifattura Falomo mission that remains all in the family.