Picking the ideal mattress can be rather challenging, especially if we consider that it's a sizable investment ready to stay with us for about 10 years.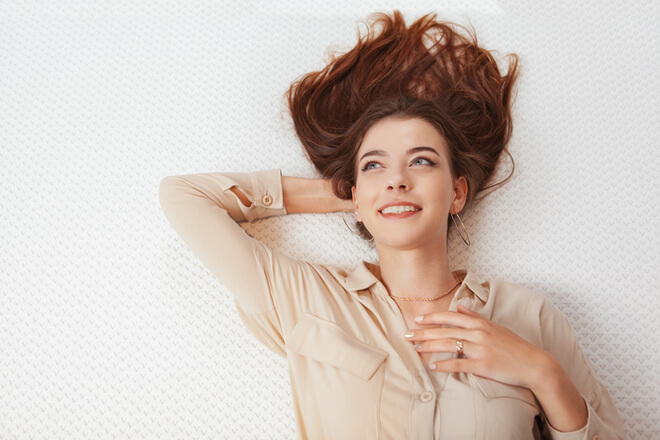 The market offers a vast selection of mattresses, but which one is best for us?
Choosing a mattress: a crucial moment
That's right! Just think about how sleep occupies a significant part of our day and how "Healthy Sleep" manages to improve our lifestyle, making us feel in great shape and allowing us to carry out all those activities we love doing every day.
But which mattress promotes good sleep?
The choice of the ideal mattress is based, more often than not, on one's personal taste. Some prefer traditional spring mattresses, or more recent models with a pocket spring system, while others prefer foam mattresses made with the most advanced materials of natural origin such as latex, memory, soy, and others.
Step 1: start with yourself!
Before venturing out in search of a new mattress, our advice is to take your time to learn more about your physical features and resting needs and analyze your sleep quality with the old mattress.
Before choosing a mattress, ask yourself these questions:
Do I prefer a hard or soft mattress?
What is my usual sleeping position?
Do I overheat at night?
What's your height and how much do you weigh?
Do I suffer from allergies or disorders?
Step 2: rely on a professional
It's now time to share your preferences and physical features with an expert who will recommend and describe the most suitable mattresses. But remember: the ultimate decision is yours!
While trying the mattress at the store, ask yourself these questions:
Is the first feeling comfortable?
Is firmness right?
Do I feel good ergonomic support in any position?
Do I feel any compressions?
Is the mattress comfortable even while I'm sitting on the edge?
At the store, take your time to recline for a while. It's essential to get comfortable just as you would at home, so take your shoes and jacket off to have a full perception of the mattress. Discover other tips in our article! [https://www.manifatturafalomo.it/blog/materassi/prova-mano-materasso/]
Ready to purchase your ideal mattress?
Find now our closest shop! Our "Healthy Sleep" experts will consider your requests and needs and you will have the chance to test our range of mattresses personally.