There's no doubt that a bedroom is the main room in our homes. It's where we can have some quality me-time, relaxing and recharging with all the energies that the many daily commitments require.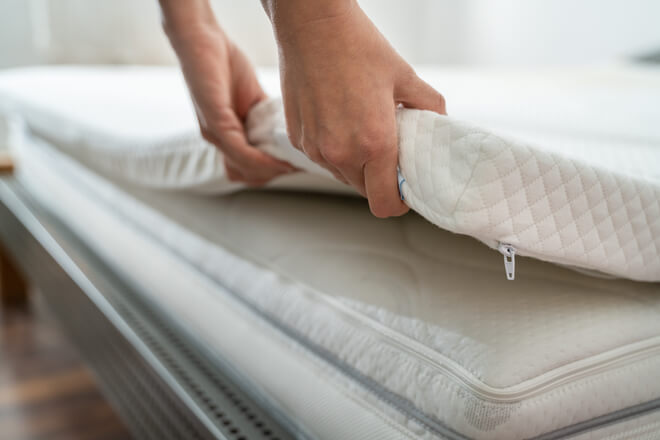 Bed toppers are an increasingly common accessory in bedrooms. However, they're still not known by everyone. Ever heard of them before? How are they used? Let's find out together!
What is a mattress topper?
A topper is a special mat that comes in different thicknesses to allow total customization of your mattress. In fact, it sits right on top of your bed and stays in place with 4 practical elastic corner straps that tuck under the mattress.
What is a mattress topper used for?
A bed topper can be placed on any type of mattress, whether it be with traditional springs, pocket springs, or foam. It has specific ergonomic features that support our weight, reduce pressure points, and favor a peaceful and restorative sleep.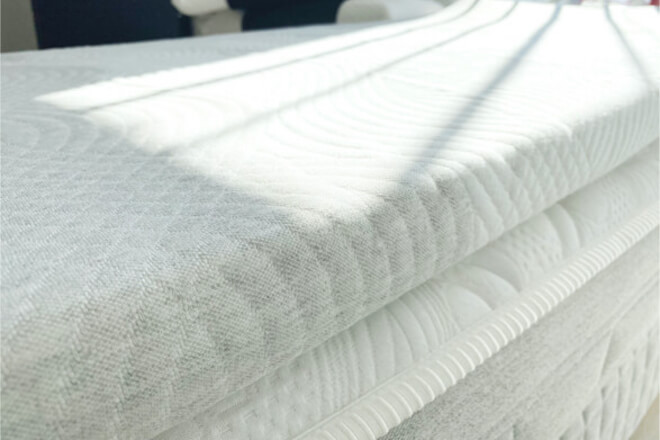 Why place a topper on your mattress?
A topper has many functions and can therefore be used in various ways. Let's find out more!
A mattress topper can be used to provide extra comfort and softness if your mattress is too stiff or if it has become so over time.
Since it's positioned right on top of the mattress, it creates a barrier against dust, wear and tear, therefore extending its lifetime. But not only! It also increases perspiration during rest.
It can be used as a connecting element to join 2 single mattresses, eliminating that uncomfortable feeling of separation and offering all the comfort of a double bed.
A topper can be rolled up easily and taken with us during business, leisure, or sports trips to find domestic comfort wherever we go!
Time to customize your mattress topper with 4 different fillings!
Some mattress toppers, such as our Topper Sport, can be customized with 4 different materials to satisfy personal physical features and resting needs.
MEMORY: the memory foam version is made with Soy Memory Touch, a material that gently and gradually molds under our body pressure while offering proper support.
GEL: the Physioclima® Gel version offers a soft and elastic feeling besides being a thermoregulating material.
FEEL HD: the version with Feel HD foam is highly elastic and ensures total freedom of movement during sleep. In addition, this hydrophilic material guarantees exceptional moisture absorption for an always dry microclimate.
LATTICE: the topper with Pulse Latex uses an innovative foam made by the well-known Belgian company "Latexco": it is a rigorously natural, latest generation material, super breathable, elastic, and welcoming.
Choose the mattress topper that suits you best and revolutionize your way of sleeping!
Guaranteeing the best sleep experience has always been our mission. Through our collaboration with sports doctors, we have developed a mattress topper that satisfies the most varied resting needs, always paying the utmost attention to the choice of safe, certified, and high-quality raw materials. What are you waiting for? Learn more about our mattress toppers!