There seems to be never enough space around the house, especially when you're trying to neatly store away blankets, duvets, sheets, or pillows.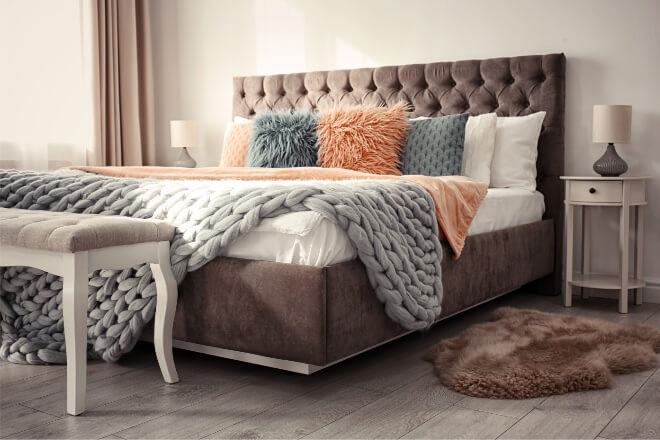 And if you live in a small house or apartment, finding a place to store all your things turns out to be a challenge, especially during season change.
A quite large and often unused space is right beneath your bed, and this is why storage beds are becoming more and more popular. The compartment underneath the mattress and the bed base allows you to store all those bulky objects and free your ever loved closet.
Advantages of storage beds
Space-saving
Beds with internal storage space allow you to make the most of the wide area below that would otherwise be unused.
Everything at hand
Storing all the linen in the compartment underneath the mattress allows you to have clean sheets and pillowcases at hand when you decide to change them.
Easily make the bed
Some storage beds have a parallel opening, which allows you to lift the bed, making it easier to change bed linen, especially for those who suffer from back pain.
Neat bedroom
To organize the space under your bed even better, use clear storage boxes with lids or vacuum storage bags. Moreover, this solution will also speed things up when you decide to empty the drawer for cleaning.
Disadvantages of storage beds
Although storage beds are a perfect solution for storing sheets and more, you should know that there are also some pitfalls.
Dust build-up
This kind of bed sets close to the floor, and therefore it traps dust, not only inside the container but also under the entire structure itself. We suggest organizing objects and textiles in well-sealed boxes to protect them better.
Cleaning difficulties
Depending on the model chosen, cleaning under the bed can be more or less complicated. If the storage area doesn't have removable panels, you will have to move the entire bed to clean the floor underneath.
Energy block
Another unpleasant aspect of storage beds is linked to Feng-Shui. According to the principles of this ancient Chinese discipline, energies should be free to flow across the bedroom. Therefore the section under the bed should remain completely clear. Find out how to improve your sleep with Feng Shui techniques in our article!
How to choose a storage bed?
After evaluating all the positive and negative aspects, if you believe that a storage bed really suits your needs, here are 2 additional features to consider when buying.
Opening and closing of the storage compartment
The opening mechanism is certainly a fundamental aspect to consider. A heavy manual lifting system would make the extra space difficult to use.
However, some models have automatic opening systems that operate through a remote control allowing you to adjust the bed base as you wish. This solution surely allows an easy opening to anyone.
Removable panels to facilitate cleaning
Make sure you choose a bed with removable panels and feet high enough to facilitate cleaning.
How to clean the storage bed?
Beds that have a storage container placed underneath are often very low, and the lack of space does not allow you to slip a broom or vacuum cleaner easily. But here are some simple tips to keep your bed perfectly clean!
Dampen a microfibre cloth with white vinegar to remove dust at least once a week. Do not underestimate this operation as dust is not only harmful to allergy or asthma sufferers. Remember that: vinegar is an excellent alternative to detergents for sanitizing thoroughly and naturally.
To clean the internal storage space, use a soft cloth and gently rub all the panels with warm water and mild soap. Before placing all items under the bed again, make sure it is wholly dry as humidity causes mold to form.
Do not forget to regularly raise the bed to ventilate both the lower compartment and your mattress.
How to choose the right mattress for your storage bed?
It is not always easy to find your way around the mattress market, especially if a storage bed bounds the choice.
Choose a breathable mattress that allows and favors air circulation in the container below, just like in a traditional bed open on 4 sides.
The mattress should be light enough to help you lift the bed effortlessly.
In the case of a double size storage bed, we recommend double-size mattress instead of 2 single mattresses, to avoid potential problems when lifting the bed.
If you suffer from allergies or are particularly careful to bed hygiene, we recommend a mattress with a removable and machine-washable cover.
A bed-base cover is another essential element that optimizes air circulation in your bed system. Discover our Airtex bed-base cover!
But first of all, choose the right mattress for you!
Choosing the right mattress for you is yet more important than the bed structure! Find a mattress that satisfies your physical features, and if you have any doubts or need advice, do not hesitate to contact us for more information!