We are pleased to announce you our attendance at Casaidea 2014 Home Living Exhibition 2014, the international furniture & design fair, that takes place every year in Rome, for over 40 years.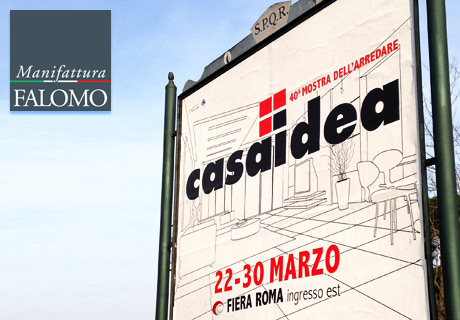 This is the Italian exhibition where you can learn the new trends, the last innovations, and the most interesting ideas about the furniture market!
During Casaidea Fair, Manifattura Falomo is going to introduce you the last innovations about "Healthy Sleep"!
An International & Acclaimed Appointment: From 22 to 30 March 2014!
This year Casaidea is focused on the "natural": Light and neutral color, transparencies and a style characterized by innovation and simplicity, from a classic to a modern way.
For more information, please visit the official website www.casaidea.com.
Manifattura Falomo & Casaidea
Manifattura Falomo will be present at the fair to show its best products, the last attractive goods, and its innovative ideas: Find out our 100% Made in Italy mattresses.
Balance De Luxe With 3D-Cover, Relaxody and Gran Relax: The Most Innovative Mattresses!
At our stand you will touch with hand our products:
The Balance De Luxe Mattress with a 3D linen cover.
The Karat De Luxe Blu.
Orma.
Soia Memory.
The last born in Manifattura Falomo factory Gran Relax, with independent springs, a captivating old-fashioned look, and its exclusive craftsmanship.
You are invited to join us! But if you cannot…
Find out now the mattresses retailer closest to you and choose the right mattress that will give you a regenerating sleep!