Would you like a natural sleep and the possibility to vary the height of your pillow? Are you afraid of making mistakes when you bought a pillow?
In this case don't miss this article, where you will learn the innovative adjustable pillow made of soy polymers for a natural and eco-friendly sleep!
Sleep In a Natural Way, Night After Night.
The "Soy+Med" pillow made by Manifattura Falomo allows you to have a natural sleep because your face and your head are always in contact with certified natural materials: in this case using a pillow made of soy polymers.
Sleeping Ergonomically. What does it means?
Sleeping ergonomically means to have adequate support without compression: The "Soy+Med" pillow gives you the possibility to eliminate the areas with too high compression between your neck and the pillow.
Through the 2 comfortable removable cylindrical elements you can test the combination that gives you comfort during the sleep.
When Hygiene Is Not An Option: A Machine Washable Pillow up to 95°C!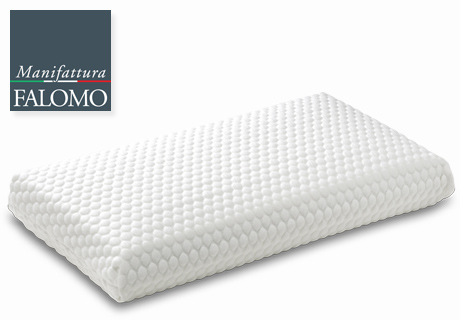 Thanks to the zip and the special external washing pillow cover made in PhisioClima, you can also comfortably wash the external cover of your pillow in the washing machine up to 95°C! This removes safely the mites and you will ensure a more hygienic sleep!
Do You Want More Information?
Discover the technical characteristics of the Soy+Med Pillow or find now the dealer closest to you!