We are pleased to introduce you the latest and innovative Dream Blue pillows!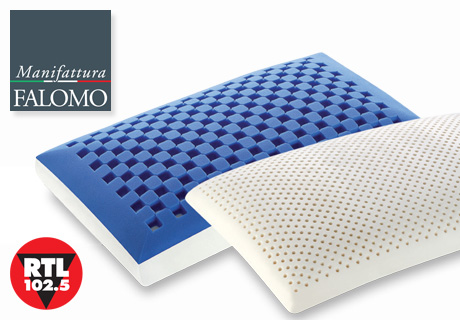 Extraordinary ergonomic, high transpiring, and comfortable! Learn more about Dream Blue!
Dream Blue, the Latest Innovation By Falomo
Dream Blue pillows are born after years of research in collaboration with qualified research institutes.
Their design and realization has been cured in every details, to ensure you a proper support of the cervical area, both sleeping on back and on the side.
Dream Blue Pillows Improve Your Sleep, Because They Adapt to You!
Don't forget that for a proper rest, every component of your bed system is essential: A mattress and a bed base that fit your physical characteristics, must be combined with a pillow, that should be able to:
Support correctly the shoulder an neck zone.
Allow the proper cervical extension, without constraints and then restoring the distance between the intervertebral discs.
Watch the Video!
An Ideal Climate and a Restoring Sleep
The quality of the materials used for the construction of the Dream Blue pillows meets high quality standards:
Memory Fresh Blue for an excellent support.
Innergetic Latex made of soft and hypoallergenic Soia Memory.
Find Out Now the Latest Incredible Pillow!
The Dream Blue pillows will improve your sleep! Visit us on www.manifatturafalomo.com, or find out the mattress retailer closest to you!