Which is the most common cause of neck pain?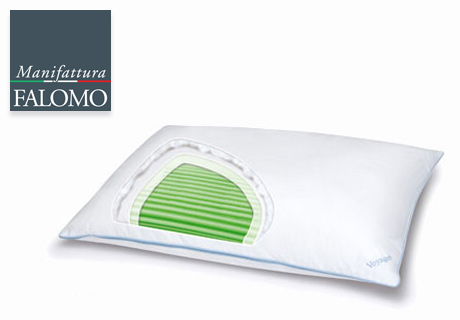 It's the wrong position of the neck during the sleep: In fact it's often compromised by the muscle tension of neck, that cause cramps, joint pain, and headaches.
An appropriate pillow should support the head without compromising the neck and the cervical spine. The laboratories of Manifattura Falomo, after years of research and development, present this special pillow: VOYAGER. VOYAGER is an innovative pillow with:
Reversible cover in "Pelle Ovo" with zipper on both sides.
Antiallergic core.
Completely washable up to 60°C also in your wash machine!
Core in soia MEMORY TOUCH or in INNERGETIC latex.
Pelle Ovo is a fabric of a long combed cotton fiber, wear resistant, that ensures against the leakage of feather in quilts, and that allows air permeability: so the pillow can resume its original shape every day after using.
The VOYAGER pillow has an intelligent make that perfectly fits your body shape. Your shoulder and neck area of the pillow support your neck without compressing them, for a healthy and regenerating sleep.
Try this innovative made in Italy pillow, contact now Manifattura Falomo!