For many, the summer fruit par excellence is the mango. It is a sweet, tasty and thirst-quenching fruit, perfect during the hot season.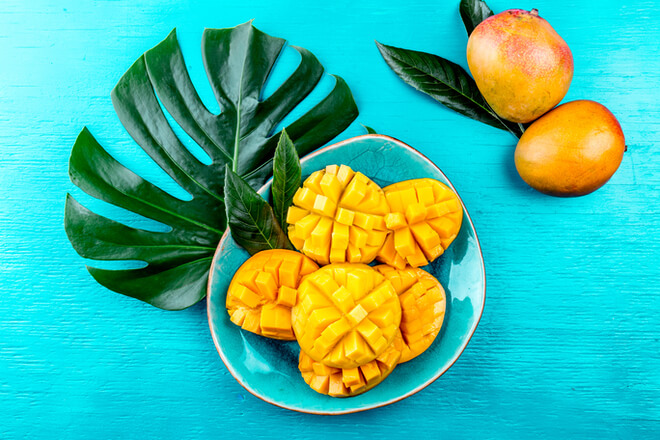 But mangoes are also among the nutritionally richest fruits. Discover in our article their multiple properties!
The mango is an exotic fruit with ancient Asian origins. Today we also find crops along the southern Italian coastline.
Did you know that the mango is considered a "superfood"? That's right, various scientific researches have confirmed it, earning it the title of "king of exotic fruits" thanks to its remarkable nutritional and healing properties.
A natural flu remedy
Mangoes are an excellent source of vitamins A and C, very useful for preventing breathing disorders. Furthermore, the fruit's peel is rich in antioxidants, phytonutrients, carotenoids, and polyphenols. Just boil and drink the warm infusion to protect the bronchi, relieve dry cough and flu symptoms.
It reduces high blood pressure
Thanks to the high content of magnesium and potassium, mangoes should be included in your diet if you suffer from high blood pressure.
An ally against anemia
Mangoes helps treat anemia because the high concentration of iron promotes the increase of red blood cells.
A mind booster
The generous amount of vitamin B6 stimulates the correct functioning of brain activities, while glutamine enhances memory and concentration.
An excellent energizer
This exotic fruit fights stress and physical fatigue. It also strengthens the immune system thanks to essential minerals and trace elements such as potassium, magnesium, copper, and sulfur.
An anti-aging fruit
Rich in vitamins A, C, and beta-carotene (essential for good tanning while they protect us from the Sun's damaging rays), mangoes help counteract the proliferation of free radicals. In addition, regular consumption increases the production of collagen, keeping the skin healthy, radiant, and hydrated.
Facilitated sleep
According to many researchers, if eaten in the evening, mangoes favor sound sleep. Also, try drinking the infusion of mango peel to relax emotional tensions.
How do you eat mangoes?
The best way to enjoy this fruit is by simply peeling and cutting it into slices or dice. But you can experiment with new tastes by adding it to salads and vegetable dishes.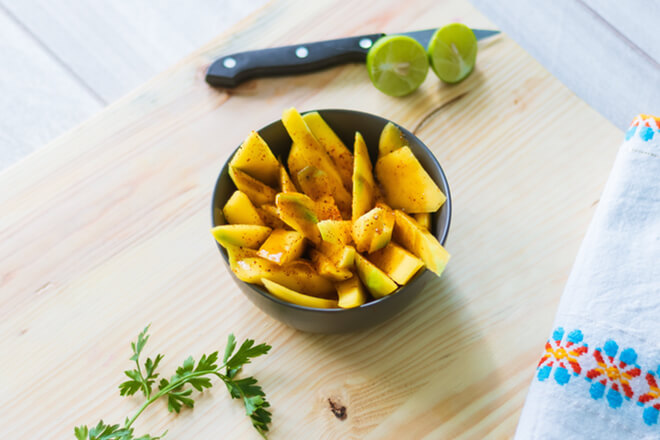 And why not prepare a tempting and thirst-quenching dessert?
Peel 1 mango, discard stone and blend the pulp with about 200 ml of milk, until smooth and creamy. The secret ingredient: add a ripe and fragrant apricot.
If you're a smoothie enthusiast, don't miss our recipes for a great awakening!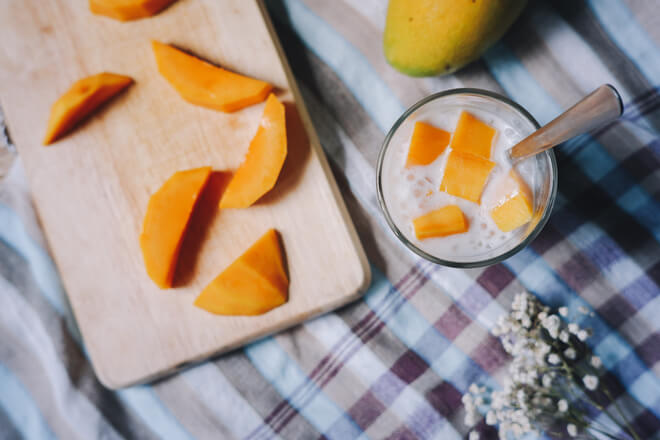 But don't forget: good summer-time sleep starts from the right mattress!
During the hot season, sleeping well can be quite challenging. Choosing the right foods to eat is necessary, but sleeping on a cool and breathable mattress is even more important. Discover all the features of our Hypoallergenic Innergetic® mattress provided with a Bielastic Med 95° cover, a guarantee of hygiene and freshness for your sleep!