Flight and hotel are booked, your suitcase is almost ready: it's finally time for a change of pace, let yourself go to relax and enjoy some well-deserved rest!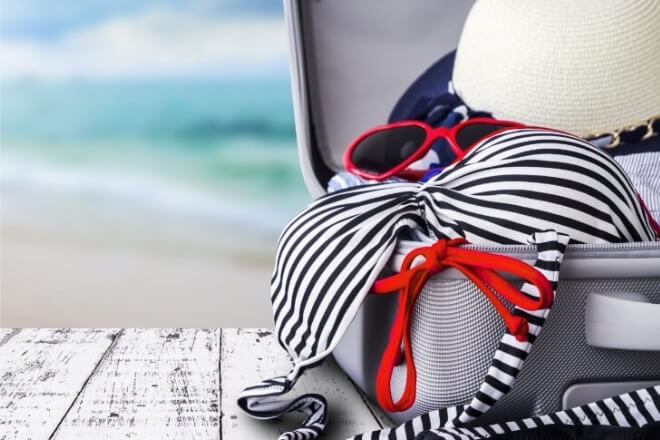 Here's a list of tips to pack in your suitcase along with your bathing suit and sunscreen to help you fully enjoy the benefits of your summer vacation.
Choose liberally and let "wellness hormones" free!
Give up all the things you "have to do" and choose what you "want to do". When we carry out activities that are relaxing for us, the levels of endocrine and serotonin in our body, better known as "wellness hormones", increase.
Even if you planned your vacation in detail, don't let yourself get carried away by the usual hustle and bustle you're used to: remember that your mind loves slowness!
A vacation is really relaxing when the rules and stress of usual routines are ignored.
Put digital detox into practice
Our psychophysical balance is often strained and this is exactly why recharging for a while is a priority.
During your vacay, put your mobile phone away, turn chats off and ignore social networks. Furthermore, it is strictly forbidden to check work emails!
Your mind can finally rest from the gathering of information that it's used to receiving. After just a few days you will start noticing the first benefits and above all, you will have more time to dedicate to yourself: read that book you haven't managed to finish yet, have a walk, visit a museum or, simply, sleep!
Allow yourself some movement
Avoid a totally sedentary lifestyle: have a short walk on the foreshore, a swim, a bike ride or a hike.
A light physical activity outdoors has great benefits on health and well-being as it eliminates psychological tensions. But remember to avoid the hottest hours of the day and intense exercise if you're not trained.
Your diet isn't going on vacation
During your summer vacation pay attention to food: eat regularly choosing a balanced and healthy diet with snacks between meals.
Avoid large meals and excessive consumption of alcoholic beverages: your body is already exhausted from the heat and too much food or alcohol can cause insomnia or make your sleep restless.
Reset your biological clock
For a truly healing vacation, allow yourself at least 8 hours of sleep each night. A refreshing rest not only strengthens the body but even the mind and spirit.
How to sleep well on vacation?
Going on vacation also means sleeping on a different bed. To guarantee yourself the best sleep wherever you go, choose the handy Topper Sport and the exclusive travel pillow!