If you often happen to wake up "on the wrong side of the bed", get things right with a cup of "Moon Milk"! The thousand-year-old Ayurvedic tradition reveals a drink with powerful calming properties to tackle stress, insomnia and much more.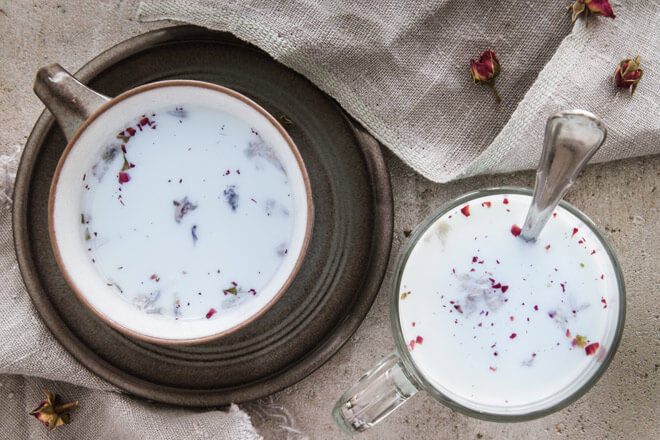 Discover all the benefits and the simple recipe and all yourself some peaceful rest night after night with the secrets from ancient Indian medicine!
"Moon Milk" is the drink of the year, to sip before crawling into bed, but let's find out why!
What are the benefits of Moon Milk?
According to traditional Ayurveda Indian medicine, this "miracle" drink is an excellent natural support to prevent various states of discomfort: from joint to menstrual pain, up to respiratory infections.
All the ingredients used for making Moon Milk have strong sedative, digestive and calming powers:
milk is one of the oldest natural remedies in the world to fight insomnia;
honey is a powerful sedative for the nervous system;
spices protect the immune system by increasing energy.
A "miracle" mix
Moon Milk is a simple drink to prepare, made from hot cow milk (or soy milk for a vegan version), honey and precious Ayurvedic spices: nutmeg, ashwagandha (one of the richest plants with antioxidant properties and better known as Indian ginseng, easily available in herbalist's shops), cinnamon, pepper and cardamom.
How to make it? Let's start with the ingredients:
1 cup of milk (cow or vegetable)
1/2 teaspoon of ginger powder
1/2 teaspoon of cinnamon powder
1/2 teaspoon of Indian ginseng powder (ashwagandha)
1 pinch of cardamom or turmeric
1 sprinkling of nutmeg and black pepper
1 tablespoon of coconut oil
1 tablespoon of honey
Let's move over to the stove:
Heat the milk in a pot over low heat.
Once it starts boiling, add all the spices and the coconut oil.
Remove the pot from the heat and after leaving everything to brew for 5 minutes, filter in a cup.
Sweeten with a spoonful of honey.
Sip it just before getting into bed.
Restore your psychophysical balance!
Moon Milk will help you sleep even during the most nervous and irascible nights but remember that the quality of the mattress you sleep on is essential to guarantee yourself a good rest and above all, a great awakening!