Sleeping well is not only good for your physical and mental health; it is also essential for having a smooth, radiant, and elastic skin.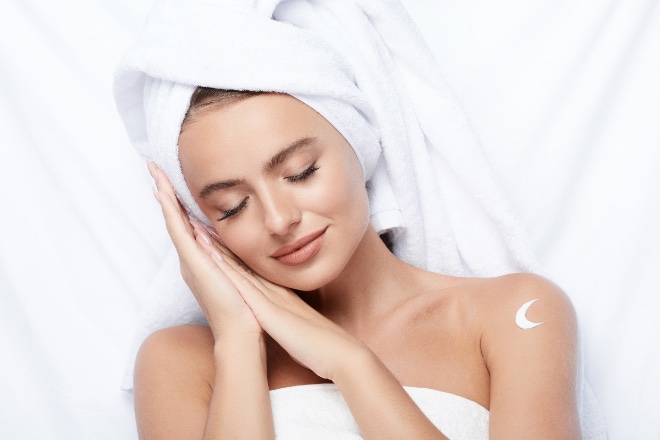 Discover in 4 simple steps, what happens to your skin while sleeping.
1. Skin cells regenerate during sleep
According to what has emerged from various dermatological studies, during the night skin, and in particular facial skin, regenerates faster.
During the so-called "golden hours" of the night (which means from 11.00 pm to 4.00 am) the production of collagen and elastin peaks, free radicals are destroyed and skin damage, caused mainly by pollution and ultraviolet rays, are naturally treated.
2. At night the skin is more receptive to cosmetic treatments
You have surely wondered about night creams and if they work. You should be aware that cosmetic treatments work better when the skin is less stressed by weather conditions and that deeply cleansed skin can better absorb the active ingredients of creams.
Be careful: choose the right products!
This is why night creams are generally richer and thicker than the ones used during the day. However, during the night the skin expels impurities and toxins, and therefore we suggest you choose moisturizers that are not too oily as they wouldn't allow your skin to "breathe".
3. Skin temperature and microcirculation increase
Daytime muscle activity causes skin temperature to rise during the night.
Higher skin temperature allows beauty products to have a deeper penetrating action, thus giving major results.
4. Your skin loses more water at night
During the night, skin temperature increases and capillaries dilate; therefore, it is necessary to treat it carefully before going to bed to prevent wrinkles or chapping in the morning.
After removing all traces of makeup, choose a cream that can restore skin hydration and possibly enriched with vitamin E, F, and hyaluronic acid. Also remember to drink plenty of water, both during the winter and summer seasons.
Bed system: the perfect ally for your good rest!
During sleep, the unconscious state of our body and mind is only apparent. During the night, our body activates a series of vital functions that are essential for our psychophysical well-being.
But good sleep always starts with choosing the ideal mattress, bed base, and pillow to satisfy your physical features. Discover right away the perfect allies for your good rest!