After a long workday, all feline lovers can't wait to get back home to their faithful furry friend.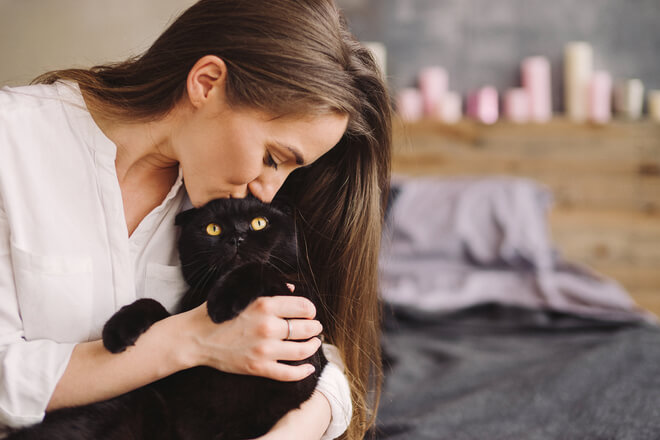 But if your cat usually sleeps on your bed, here's some important information you should know!
Do cats promote good sleep?
Unless they're particularly lively at night, many find that cuddling up with a cat makes them feel more relaxed and, therefore, better rested (and in a good mood) in the morning.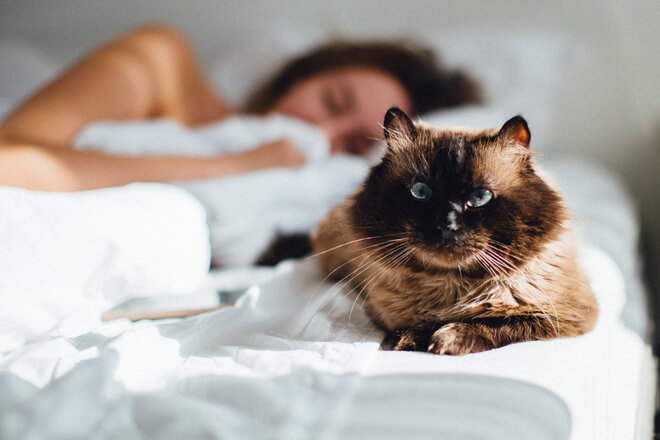 Cats, unlike dogs, have short sleep patterns. And since they remain alert and attentive during the night, they allow their human parents to feel protected, relaxed, and sleep better!
If you share your bed with a cat, here are 4 simple tips you shouldn't miss!
Make sure your cat is in excellent health! So remember to regularly schedule an appointment with your trusted vet for a general check-up.
Even if your cat reigns supreme indoors, don't forget that scrupulous cleaning and hygiene of the rooms is essential. Here's our guide to help you turn your bedroom into a safe place to sleep and rest!
Avoid exposure to viruses, allergens, and bacteria by having your furry friend sleep only on top of the blankets, even better if on a blanket placed especially for him or her.
Sanitizing your mattress is really important, so here are 4 simple steps to make it impeccable!
Sleep like a log ... Oops, like a cat!
Just like your cat, get plenty of sound sleep with a comfortable and adequate bed system. Don't miss our washable mattress cover in Bielastic Med with exceptional antibacterial properties and the hypoallergenic and washable mattress protector in Medicott® fabric that can be washed at 95° C.