When it comes to the proper maintenance of a mattress, many people believe that changing the sheets is more than enough for having a clean bed, but...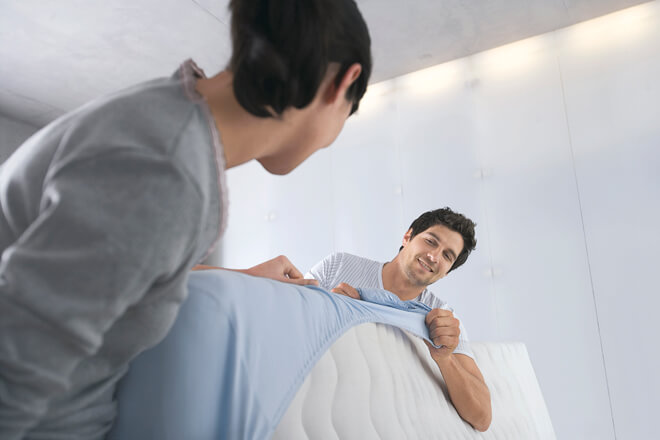 Stains, odors and dust mites are unavoidable consequences given by its daily use. Regular and careful cleaning of mattresses can certainly help minimize the inconvenience caused by allergens, including mold, bacteria, viruses, and mites and protect them from wear and tear of time. Find out how to get rid of them in 3 simple steps!
Let's move on to action!
1. The power of the sun
Once a year, preferably during the summer season, ventilate your mattress by placing it outdoors for a couple of hours, but never in direct sunlight. The heat of the sun will eliminate moisture from your mattress, thus preventing the formation of mold.
2. Baking soda: a dated but effective solution
Change the sheets every week and after removing them, cover the surface of your mattress with a few handfuls of baking soda, let it work for at least half an hour and then remove it with a vacuum cleaner. Baking soda is an excellent and cheap eco-friendly disinfectant that will guarantee maximum hygiene. And remember to open the windows of your bedroom to let in fresh air and sunlight before making the bed!
3. Straight into the washing machine!
Nowadays most mattresses available on the market are supplied with removable and machine washable outer linen. After checking the washing instructions, add half a cup of white vinegar directly onto the laundry placed in the washing machine: vinegar enhances the cleaning power of detergents, removes stains and bad smells and is a good hygienizer.
Take care of your mattress and family
Manifattura Falomo knows that a complete cleaning of the mattress translates into taking care of your own health as well as the family. This is why we have designed the special hypoallergenic mattress cover Bielastic and Medicott, machine washable up to 95° C to guarantee a safe and comfortable rest!