We're heading towards the warm season and with plenty of good resolutions: which is the most important among all? Getting back into shape and feeling great every day.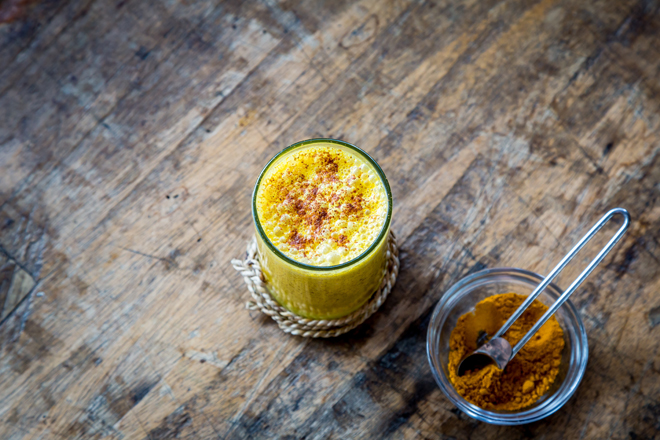 To reach your goal you should stick to few usual fundamental rules: regular exercise, healthy diet and a night of regenerating rest.
In the morning, try out this new drink which has many praised powers: alleviates inflammation, regenerates, works perfectly against cough, cold, menstrual pain and high cholesterol; moreover, it boosts the immune system. There couldn't be a more appropriate name: get the golden milk ready!
Golden milk recipe
First of all you will have to prepare the turmeric dough by boiling 1/4 glass of turmeric diluted in 1/2 glass of water.
Stir until obtaining a thick mixture, place it in a jar to keep in the refrigerator and use it every morning to prepare your golden milk.
In the morning you will just have to melt 1/4 teaspoon of turmeric dough in the milk you like best, either cow or vegetable milk, and add a pinch of pepper or honey as you prefer.
A perfect remedy also against insomnia!
Golden milk is a perfect drink, not only for recharging yourself in the morning, as its beneficial effects go well further: drinking a glass of hot milk in the evening before going to sleep can help you rest better and by adding a sprinkle of turmeric, the effect will be enhanced!
Restore your sense of wellness
Daily stress can have important effects on our body, therefore it's important to take care of yourself especially in the evening, when you can profit from the 7/8-hour-rest to forget all your problems and regenerate the body and spirit.
Carefully choose the perfect bed system that allows you to rest well each night and awake feeling relaxed and full of energy!